I've got a stinking cold, which is bad.
It's been keeping me up all night every night and I haven't felt able to play many games recently - I think that Bob Came In Pieces Guide wiped me out!
So while not sleeping I needed something not too taxing but distracting enough so I didn't have to think too hard but also not notice that I'm still poorly. So I visited Big Fish Games who are usually good for those kind of games and picked up the new Fix-It-Up game, the original I
reviewed last year
Basically you have to manage a garage, buying low, fixing up and finally selling at a higher price to turn a profit. With my own car currently in the garage being repaired (it's as poorly as I am!) this seemed quite apt.
They've made a series of good improvements in this sequel, the most noticeable is that it's a longer game Also because it's set all over the world the locations are far more varied and there's a larger number of cars to repair and sell on.
There's also an attempt to tell a story of sorts which explains the location hoping from the USA to Australia then South Africa. A story with love, greed and betrayal no less, centred around a rival garage trying to sabotage your endeavours. They even go so far as to start cutting break lines on pickup trucks, which if you ask me just isn't in the entrepreneurial spirit of things!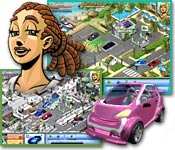 A bunch of other new stuff has been thrown in too, the kind of features which are standard in todays casual gaming world such as a trophy room disguised as a mansion that you build up. Kind of like the civilisation series when you chose new sections for your castle...
Overall it's good for when you don't really want a game that's too taxing or stressful, as are most of the games on the
Big Fish Games Site
. If you're feeling as bad as I am right now maybe it will help you too!
Here's the page for Fix It Up World Tour on Big Fish Games
Or if you're feeling
Super Nice
you could go via this link
Affliliate link for Fix-It-Up
which, if you buy the game, doesn't cost any more to you, but helps support this site!