From the bustling centre of Diner Town, Play First have released their latest time management game: Soap Opera Dash. Featuring all of your favourite characters from the DinerDash gang you now take on the role of Rosie as she attempts to create the next big thing for daytime TV!
Like other games in the series your job is to choose the best order of tasks for Sophie so that she finishes everything as quickly as possible while keeping everyone happy at the same time.
Not that it's easy, blimey it's one of the more difficult games in it's genre I've played because there's such a variety of tasks that need to be completed. First you need to hand your arriving actors and actressess their scripts, move them to the hair dressing station, then attend to all of their hair care needs before whisking them off to the dressing station where, armed with your needle and thread, prepare the best costumes possible and finally shoving them into the makeup chair, making them look all beautiful so they are ready to appear in the current scene! Phew...
Sometimes this is made more difficult because you have to make actual choices for people, selecting the right clothes or hair style/colour and so on. Also if your walking talking props (yes I'm talking about the talent here) get a bit grumpy you can improve their mood with an iced tea or two. These events do give you more points however and the more points you get the more you can improve your set.
Improvements come in many forms, such as an upgrade to the iced tea maker, or new trainers for Rosie so she can get around faster. The most useful being anything that makes the other characters more patient however because it does take time to get round to everything in this.
Generally speaking it's good fun, not quite as much as the Avenue Flo games from the same group but still a worth contender of your time.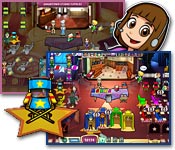 Click here to visit the BFG page to try Soap Opera Dash (Free 1 hour demo)